I have previously posted numerous mobile stencils and wireframes, but with Google's recent release of the new OS, we designers need the new tools: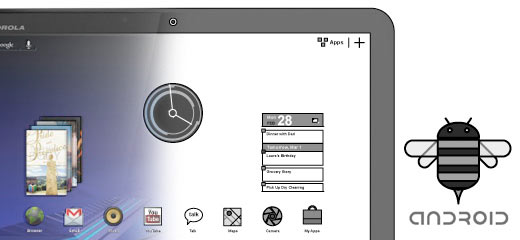 Google recently released their OS designed specifically for tablets: Android Honeycomb. This is a set of stencils & sketchsheets to help you get started mocking up your GUI's.
DroidDraw is an online tool to help you easily build graphical user interfaces for the Android cell phone platform. There's also a standalone executable available for Mac OS X, Windows, and Linux. This is a really quick way to emulate your application with almost no need to know code and focus strictly on the interface.
Sensor simulator is a java standalone application that simulates sensor data and transmits them to the Android emulator.
In this Fireworks template the Android user interface elements have been redrawn as vector images. In the folders the elements have been mostly labeled according to the Android vocabulary.
App Inventor lets you start design an Android app in your browser. Then, like fitting together puzzle pieces, you set your app's behavior. All the while, through a live connection between your computer and your phone, your app appears on your phone.
Photoshop file featuring elements of the Android OS 1.5 GUI . Great for application mock-ups and concepting.